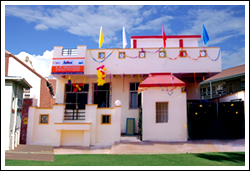 We take the pleasure in introducing ourselves as one of the leading manufacturers of excellent quality Electrical & Electronic Instruments being used for Power conditioning, such as UPS, on-line UPS, Inverter, CVT, Stabilizer, Servo Voltage Stabilizer, R.O.Water Purifier & U.V. Water Purifier.

We are in the market for many years and our Products are working satisfactorily in India & Abroad. Our Factory is professionally managed and having ISO 9001: 2008 certifications, equipped with latest precision Tools & Test facilities to maintain the product quality. Our products are highly reliable, robust and versatile.
We at Sunrise Unitech Pvt. Ltd. strive hard to make sure the productivity and efficiency of your machines and equipments are not affected at all by untimely power cuts and corruptions.
The Manufacturing facility situated at RIICO Industrial area, Sitapura, Jaipur - houses a state-of-the-art manufacturing & testing facility to cater to the specific needs of clients along with the standard specification products. The facility houses advanced machinery from high-end machines like wave soldering machine, Component Mounting channels, Zigs to Motorised Winding Machine to ensure the quality of the end product.
Sunrise Unitech Pvt. Ltd. is committed to provide its customers total power solution with power management products designed and built with integrity and professionalism. Relentless R & D effort and incorporation of innovative ideas into products, the Company has managed to be good position in the national market and has made its present felt in the international market. .
We continuously provide our customers with the best quality goods and services at most reasonable prices. We strive forward for better tomorrow with the best technology and innovative products for our customers.
Taking the operation thought developing with the time and creating by technology and the work core to create value for the customer "we are committed to maintain excellence in quality of our products and services, with focus on customer satisfaction and market relationship".